Get the book to grow revenue. It's all about focus on High Payoff Activities.
A sales team produces more when they focus their time doing High Payoff Activities with High Value Targets. So get the right people in the right seats, doing the right things. Doing them really well.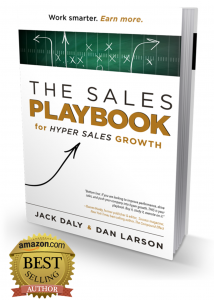 An effective Sales Playbook does t
his consistently. It helps you train and ramp-up your team, as well as new hires quicker to payoff. Organized systems, processes and tools equip your team to grow results, and then to scale larger revenue.
Dan Larson co-authored The Sales Playbook for Hyper Sales Growth with speaker and business partner, Jack Daly. An Amazon best-seller and a first national release book for ForbesBooks. It's a perfect sequel and action book for how to implement Jack's best-seller Hyper Sales Growth book.